INGREDIENTS
185g unsalted butter
185g best dark chocolate
85g plain flour
40g cocoa powder
50g white chocolate
50g milk chocolate
3 large eggs
275g caster sugar
Dark Chocolate Brownies
DESCRIPTION
I spent like ten months trying out new brownie recipes and this one was Really Good.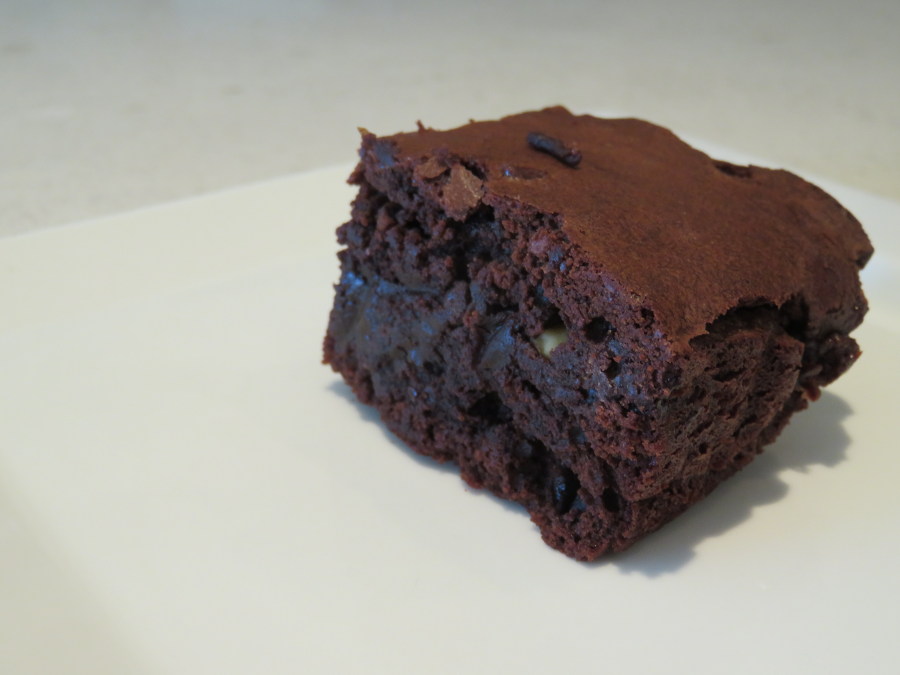 PREPARATION
Cut butter into small cubes and tip into a medium bowl. Break dark chocolate into small pieces and drop into the bowl.

Melt butter and chocolate mix with a bain-marie or microwave, stirring occasionally. Leave mixture to cool to room temperature.

Set oven to heat to 180°C. Line the base of a 20cm square tin with baking paper.

Sift flour and cocoa into a bowl.

Chop milk and white chocolate into chunks.

Crack the eggs into a large bowl, pour in the caster sugar. Use an electric whisk on maximum speed for 3-8 minutes. The result should be about twice the volume and leave a trail for a second or two when you pick the whisk out.

Pour the chocolate-butter mix into the egg and gently fold together. Avoid beating the air out of the mix.

Pour in the dry ingredient mix and fold it in. The mixture should eventually take on a fudge-like consistency.

Stir in the chocolate chunks thoroughly.

Pour mixture into the tin, easing it into the corners with a spatula to smooth it out. Bake for 25 minutes.

When you take the brownie out, shake it a bit. If it wobbles, put it back in for five minutes. If it's not wobbly it's fine.

Let the brownie cool in the tin. Once cold, dump the brownie out. Cut into whatever size pieces you want, and I guess eat them or something.